Director Kay Brandt produces porn movies based on books of erotic fiction. If any adult studio has its finger on the pulse of Middle-America's softcore-to-XX needs, it is Adam & Eve, which still has a direct mail catalogue. So if you are as shocked as I am that people still read, a quick look in the archives reveals that the Kay Brandt entity released a book/movie pair with "Safe Landings" in 2015.
In the following press release you will find a porn actor whose name is a palindrome as well as the word "universe" being used, in my opinion, way too soon. Further, I'd suggest that maybe there's no need for the word "Lustful" in the title. It is a porn movie, after all. Just one look at the cover and your coworkers at the shipyard will be all like, "I bet that wife is lustful." See, you want the audience to do some of the work, otherwise they're not engaged.
The above image is from the site Bible Info. I forget deadly sins the way I forget Supreme Court Justices. I always miss one, like Envy or Stephen Breyer. (I can't reliably name each Supreme Court Justice, but I know it when I see it.) I think those are really lazy choices for images. I mean, if Sloth is true, we're all fucked. And Pride is a lion.
"The Lustful Wife 2" looks like it would be better than "Jaws 2."
Adam & Eve Pictures Presents 'The Lustful Wife Vol. 2',
Available Exclusively on Adult Empire
Joanna Angel Stars in the Sequel to the Hit Film
from Adult Auteur Kay Brandt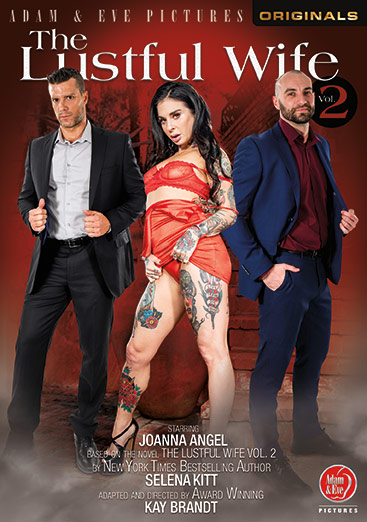 HILLSBOROUGH, NC (July 27, 2020) – Adam & Eve Pictures' The Lustful Wife Vol. 2, the sequel to the hit original, has made its exclusive debut on Adult Empire. Directed by Kay Brandt, the film stars Joanna Angel, a seductress who guides Penny Pax into the world of decadent swinging parties. The film also stars Sarah Vandella alongside Gianna Dior, Vera King, Derrick Pierce, Ramon nomaR, and Stirling Cooper. The film is available now via VOD on Adult Empire, and will be released on DVD August 18.
To view the suitable for work trailer, click here.
"The Lustful Wife was an enormous hit, and we wanted to build off such an incredible foundation for a sequel," said Rachel Vigneaux, executive producer for Adam & Eve Pictures. "Continuing the sexually explorative adventures of our lead character, Tara, has led to a great narrative that will please fans of the original film and excite newcomers. Kay Brandt's direction is undeniably perfect, bringing the best out of such a mind-blowing cast. The Lustful Wife universe, which originated with Selena Kitt's novel, continues to provide a wealth of imaginative erotica."
The Lustful Wife Vol. 2 features Tara (Penny Pax), a lonely housewife who, when her husband goes out of town for an extended business trip, seeks comfort and romance from an experienced woman, Michelle (Joanna Angel), who opens her mind and body to new erotic experiences. With her husband's blessing, Tara follows Michelle's sexy lead into the home of a hot swinging couple who love to throw decadent lifestyle parties. Ready to dive deeper into her sexual exploration, Tara willingly goes with the romantic flow and finds herself in unfamiliar beds with passionate lovers.
For more information visit AdamEve.com and AdultEmpire.com.
About Adam & Eve Pictures:
Founded in 1993, Adam & Eve Pictures is the nation's leading adult film production company with thousands of critically acclaimed titles in their library and millions of satisfied viewers around the world. An offshoot of Adam & Eve corporate, Adam & Eve Pictures was formed to create and contribute aesthetically ethical adult video content to the mass market. Since its inception, Adam & Eve Pictures has produced a multitude of best-selling and highly awarded blockbusters, including Rawhide and Pirates. They have also invested heavily in the sex education segment and offer an entire line by Nina Hartley with titles including Nina Hartley's Guides to Double Penetration, Oral Sex, Bondage, and Threesomes. In 2015 Adam & Eve Pictures became the first adult production company to bring a New York Times best-selling novel to screen with the critically acclaimed Babysitting the Baumgartners series. Boasting over 90 awards over 25 years, Adam and Eve Pictures is a cornerstone of adult entertainment. For more information, visit AdamEve.com.